Firework Displays & Special Effects (SFX)
If you are interested in finding out more about our Fireworks & Special Effects Services, please contact us on the details below.
Please either email us at sales@ytmfireworks.com contact us on +44 (0) 207 298 5572 or complete the contact form on the following link - Contact Form.
Outdoor Firework Displays
We cater for all event sizes from intimate weddings, corporate celebrations and private parties.
Our range of services include traditional fireworks displays, sky lantern displays, pyro-musical and multimedia displays. Displays can be arranged to take place on rooftops, barges, sea, lakes and other ground based locations. We are able to produce effects with height clearance that range from 10ft to 200ft.
These close proximity effects, with low or zero fallout, are mainly used to create massive firework displays, offering our clients from more than 1,500 different firework effects to choose from.
As a rough guideline, the table below indicates an approximate cost for each type of display.
| Display Size | Approximate Cost |
| --- | --- |
| Small | £4,000 - £5,000 |
| Medium | £5,000 - £10,000 |
| Large | £10,000 - £20,000 |
| Extra Large | £20,000 + |
Special Effects (SFX)
If you're looking for a professional fireworks display or are in need of special effects (SFX) for either festivals, corporate events, stage performances, closing ceremonies or even just something a little more 'extra special', then the YTM Fireworks Team can help.
We work closely with a number of the UK's most experienced Pyro Teams to offer a vast range of both indoor and outdoor fireworks displays and special effect spectacles, which are aimed at providing co-ordinated and stunning visual entertainment for all types of client.
Together we offer the following indoor and outdoor SFX services:
Firework Displays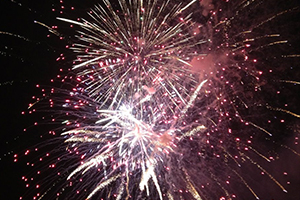 Professional fireworks display for large party celebrations or corporate events
Flames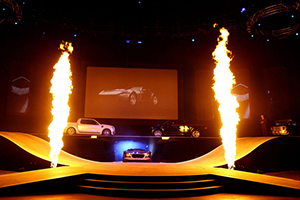 Liquid or gas flame system with an array of different colours that stretch over varying height ranges (2 to 15 plus metres) dependent on the location and desired effect
Confetti & Streamers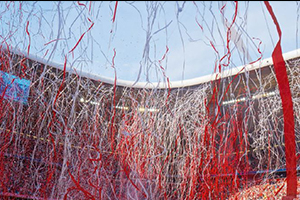 Small stage confetti drop units, electric power shots, three sizes of confetti blasters and massive stadium shots are available as part of our confetti displays
Cryogenics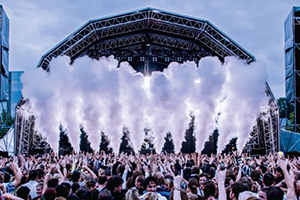 Small and large CO2 jets and multi angled Lighting DMX units, which are used for amateur and professional laser shows
Stage Pyrotechnics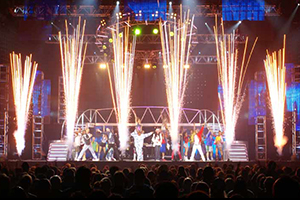 Thousands of different effects for stage work such as jets, waterfalls, air bursts, smoke puffs and flame projectors are also available
Snow Machines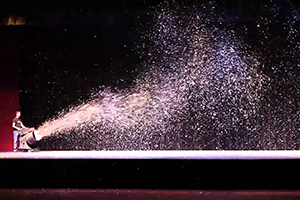 Snow effects to produce winter snowflake scenes either on stage or over large outdoor areas
T-Shirt Shooting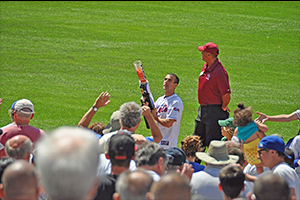 Festival or concert T-Shirt shooting that can be fired by either the client a or professional technicians
Coloured Powder Blast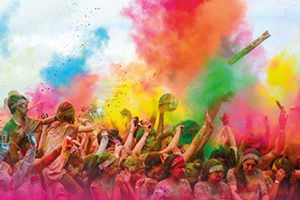 Used on the audience to cover them in multi coloured non-toxic, non-irritant and non-flammable coloured powder
Film and TV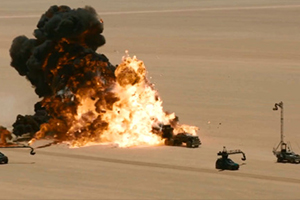 One-off action moments, ranging from small electric sparks to massive high impact explosive effects. Has also been used at many high profile concerts
Bubbles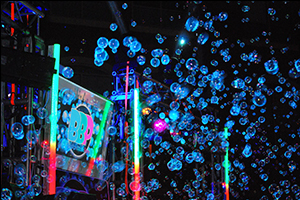 Bubble machines with fan assistance, that create a flurry of bubbles for parties, shows and festivals
Balloon Drops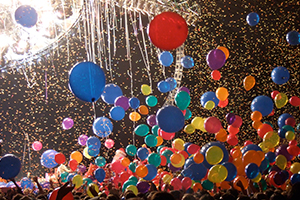 Electric power drop instantly releases huge numbers of balloons for an end of party effect